There is less than a week until the first round that can define the next president of the Nation or at least the candidates who will compete in a second round in November. The increase in the parallel dollar intensifies the uncertainty in the heat of some very sensitive statements, especially from Javier Milei's space. We reached a point of uncertainty with no return and where it is difficult to look beyond a couple of weeks.
However, in some spaces work is already being done to try to accommodate some of the productive agenda that is having so little space in the public debate.
Anuga 2023 closed with a positive balance for the Argentine meat industry
One of those who is looking to occupy a place on the upcoming agenda is the businessman from Córdoba Roberto Urquía, at the head of the food giant Aceitera General Deheza. In March 2000, when he held a position in the National Congress, he created the Multiplicar Foundation, a space from which today he designs sectoral policies and promotes lobbying for specific programs.
The latest work in that space is a paper titled "Exporter Productive Shock" which seeks to "contribute from the agrobioindustrial sector to generating an external trade surplus so that Argentina, within a framework of macroeconomic stability, can solve the problems of growth and development, and actively promote investments that add value to internal and external agricultural production." .
Some specific objectives are defined in the work. Namely:
Transform reprimarization of agrobioindustrial external sales in a successful export value-added program for the next 10 years. This will be led by the agricultural complex and by a shock in the production and export of beef, pork and poultry.
Support agribusiness investment of national capital to strengthen the national export bias.
Protect and promote SMEs, as the central axis of the development of the national productive structure.
Keep the Internal Market supplied in quantity, diversity and quality of food and generate jobs.
Promote the development of Regional Economies so that they are promoters of federal development, generating territorial roots and production in a sustainable way.
Adjust production systems to the new environmental and social demands of External Markets. Economic incentives for the sector should not harm the consumption capacity of Argentines.
"We have been working in the sector for 20 years and with the work team we have been promoting a project that we believe that with appropriate policies can be a good contribution to the country. We put it together and presented it to 4 candidates for president. We sent them to Milei, Massa, Bullrich and Schiaretti, we'll see what happens. We believe that by touching the entire sector we can do important things," says Guillermo Giraudo, general manager of Fundación Multiplicar.
Key numbers.
Through a series of reforms – legislative, productive, fiscal – the space chaired by Urquía aims to bring agricultural production to around 200 million tons. And the sector's exports from US$47 billion to more than US$91 billion.
A central pillar to achieve the proposed goals in plant and animal protein, regional economic complexes, biofuels and forest industry is the framework of new legal, fiscal and financial measures to be resolved. Among other:
-Law on Seeds and Phytogenetic Creations;
-Readjustment of export rights;
-Federal, Inclusive, Sustainable and Exporting Agrobioindustrial Development Promotion Regime Law
-Biofuels Law
-Readjustment of the Leasing Law
In the case of withholdings, a reduction in export duties on soybeans and byproducts is promoted from the current 33%-31% to 20% and 17%, and it is proposed that they reach 0% "if the fiscal situation allows it.
Argentina lost its leadership as the largest exporter of soybean meal
They also seek that regional economies pay 0%, that meat go from 9% to 5% and that withholdings for corn and wheat be raised from 12% to 17%, on account of Profits.
"The aim is not to encourage soybeanization, but rather a more balanced scheme so that producers can move between different crops, without the enormous differences that exist today. This is a program that we believe has to be urgent in some points. The reduction of some points of export duties must be urgent. And also work on a new seed and leasing law," says Giraudo.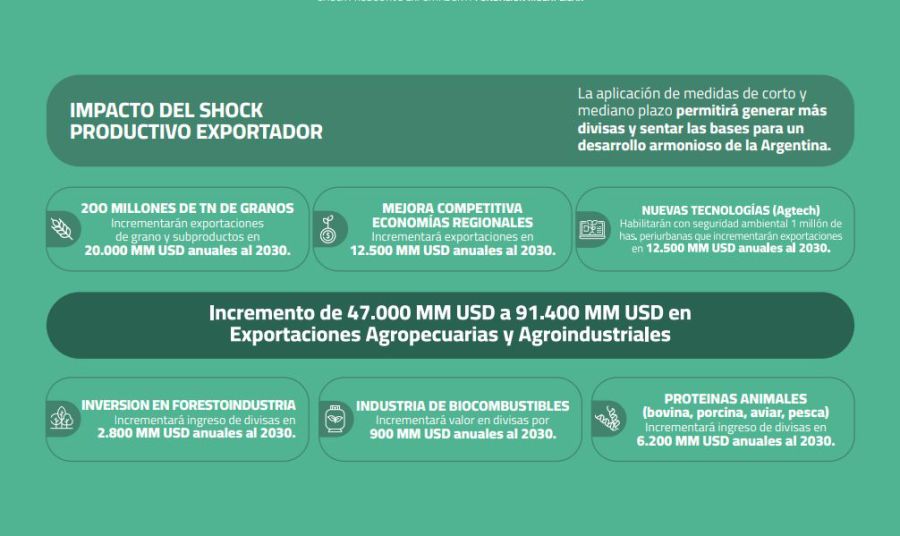 -What reception did you have of the candidates?
-We sent it to everyone who asked us and the economic teams of 4 candidates have it. Those from Massa and Schiaretti are the ones who were most involved, but from Bullrich we also had questions. Let's hope they can give him space. We have to work because there is a lot of potential and markets like Brazil have gained us a lot of ground.