728033.1.260.149.20230102012639
Map with the situation of the war in Ukraine on January 2, 2023 (Status at 5:00 p.m.). -EPDATA
Today's latest news about the Ukrainian-Russian war
At least one 19-year-old boy is injured by Russian bombings in the capital
MADRID, 2 (.)
The Ukrainian authorities have denounced on Sunday night new attacks with drones of alleged Israeli manufacture against the capital of the country, kyiv.
The spokesman for the local authorities, Oleksiy Kuleba, has indicated that "the air defense forces are working on targets", referring to an alleged drone attack in the kyiv region.
"The main thing now is to remain calm and stay in the shelters until the alarm sounds," he added, criticizing that "the danger persists in the region."
The mayor of kyiv, Vitali Klitschko, has confirmed that there has been an explosion in the capital, which has injured a 19-year-old boy who has had to be hospitalized.
Subsequently, Klitschko explained that "as a result of the night bombardment of the capital, energy infrastructure facilities have been damaged."
"There are emergency power cuts in the city. Consequently, there are de-energized heating supply facilities," he specified, while he reported that the water supply works "normally."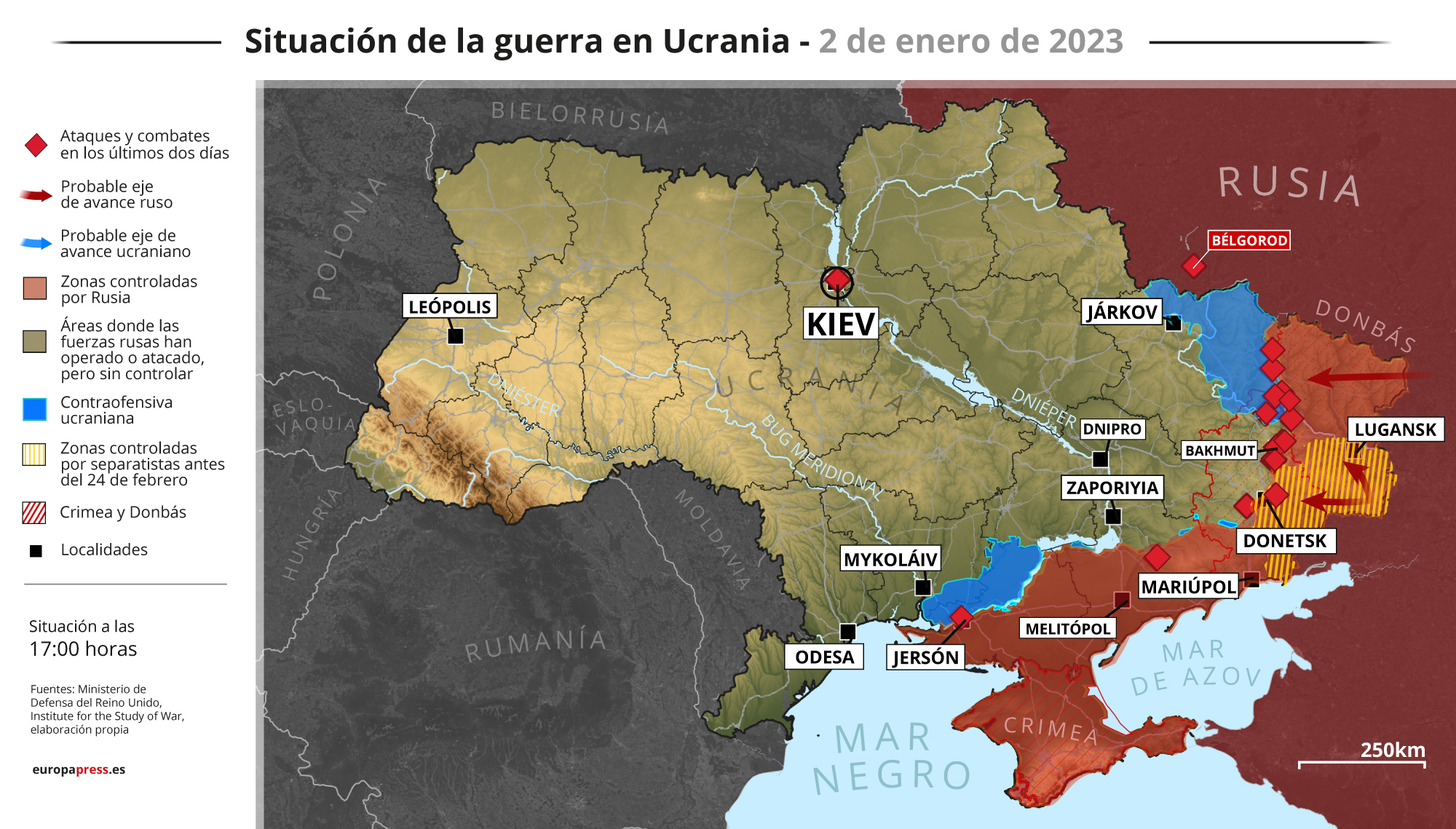 20 DRONES DOWNED
The kyiv Military Administration has announced that during the airstrike this morning the Ukrainian air defense forces have shot down at least 22 drones. Hours before, the authorities had indicated that they had destroyed "16 air targets."
The Ukrainian army reported early on Sunday that Russian troops had attacked Ukrainian territory with drones on New Year's Eve, shooting down at least 45 of them.
This was reported by the Air Force Command of the Ukrainian troops in its Telegram profile, adding that, of the 45 drones shot down, thirteen were destroyed in 2022 and 32 in 2023, according to the Ukrinform news agency.