On October 15, Daniel Noboa, the 35-year-old heir to a banana empire, and Luisa González, 45, Political protégé of former President Rafael Correa, they will dispute the presidency of Ecuador in the second electoral round. It's a political déjà vu: in the second round of the 2006 elections, Álvaro, Daniel's father, lost to Correa by a double-digit margin.
Now, in a stunning surprise, Daniel can avenge his wealthy father, a six-time presidential contender, in what has become the nation's most dramatic election in decades. "All the people who want a change have won," Noboa said Sunday night.
Daniel moved from sixth to second place after the shocking assassination of candidate Fernando Villavicencio on August 10. He has vowed to rein in the cocaine cartels, which have helped make Ecuador one of the most violent countries in the world, and to boost the economy with their pro-market recipes.
Santiago Basabe, a professor at the Latin American Faculty of Social Sciences (FLACSO) in Quito, believes that Noboa could beat González by between eight and 10 points. "He has it much easier than González"it states.
A Noboa representative declined to comment or arrange an interview.
Another political crime in Ecuador: they killed a leader of Correa's party
elite and belligerent
Product of the Ecuadorian coastal elite, Daniel worked for years in the family business and earned a master's degree from Harvard. In 2021, he won a seat in the National Assembly, representing the province of Santa Elena, which is characterized by its spas and an oil refinery.
One of two representatives from his party, Noboa became president of the National Assembly's Commission for Economic Development, which drafted legislation on sectors such as fintech and small businesses.
On the international scene, Noboa has openly defied the pro-Ukrainian administration of President Guillermo Lasso, leading a delegation of lawmakers that traveled to Russia last year.
In March, he called on Lasso to dissolve the National Assembly after, for the second time, he blocked a bill that would have boosted private sector investment. Noboa was also one of 104 legislators who supported an initiative to remove Lasso that month.
Lasso ended up dissolving the National Assembly two months later and calling the current early elections, in which he refused to participate.
a new candidate
In May, Noboa launched into the presidential race, presenting himself as a pro-market leader, center-left and tough on crime, without imitating the tactics of Nayib Bukele, the strong man of El Salvador.
Noboa managed to distinguish himself from two rivals who also come from well-to-do backgrounds (the press dubbed them the "Sambo Triplets," after a wealthy Ecuadorian suburb).
He has won the support of women voters and the endorsement of Marlon "Chito" Vera, a popular mixed martial arts fighter whom Noboa endorsed early in his career.
Noboa wants to develop Ecuador's oil industry, especially its refining sector. But he has not yet explained how he would finance this initiative.
Tension in Ecuador threatens important mining and oil projects
However, also supported a recent referendum to restrict oil exploitation in the Amazon — its heavy crude, it maintains, is too low-margin to generate much revenue — a claim the state oil company rejects. The possibility of contamination outweighs the possibility of making real money, Noboa has said.
It is likely that he will continue to benefit from González's failure to extend his appeal beyond those nostalgic for Correa, whose spending emptied the coffers of Ecuador. Two-thirds of the voters in the first round chose other candidates, almost all of them more conservative than her.
And while Correa largely kept violent crime in check, Mexican drug cartels sprawled across Ecuador under his rule, laying the foundations for their current bloody turf wars.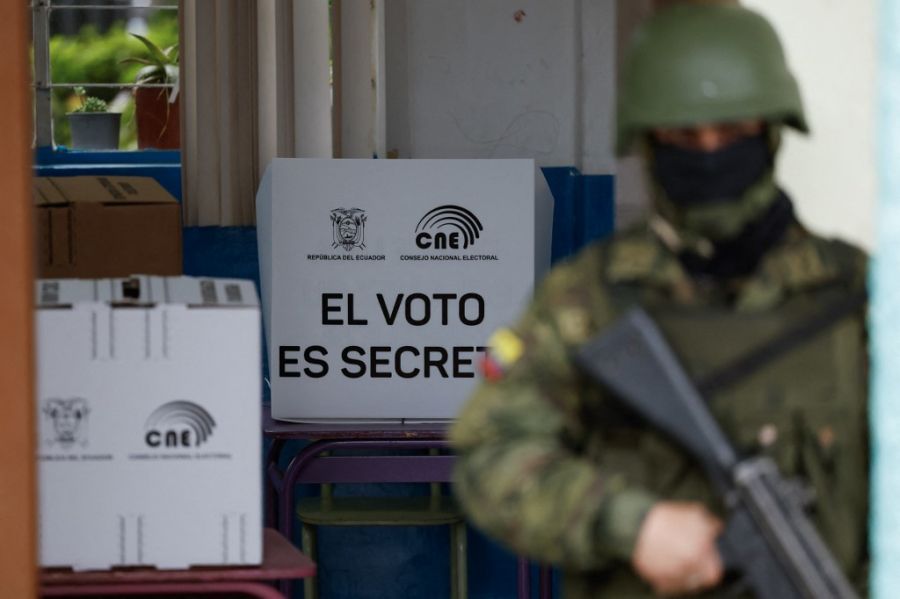 In a campaign marked by tough talk on crime, Noboa did not promise aggressive reforms. Days after Villavicencio's assassination, he was the only candidate to wear a bulletproof vest during a presidential debate.
Although Google searches for Noboa's name spiked after the debate, it's unclear what role his performance played in getting him into the runoff.
"It could be the candidate who captured the vote of young people, as a fresh candidate more similar to them, with a clear speech that is easier to understand"Said Basabe.
Ecuador: the commotion continues over the murdered leaders
"noble purpose"
Despite the fact that the Noboa name is synonymous with presidential campaigns, Daniel seems poised to forge his own legacy.
In May, days after Daniel entered the presidential race, Álvaro posted a video on Instagram announcing his candidacy. Old habits don't die: carries a record six presidential bids.
Hours later, the video was removed.
After Daniel qualified for the second round, Álvaro issued a statement congratulating Daniel for "continuing the noble purpose we have in our family."
But Daniel has rejected any claims that he is following his father's dreams. Winning the presidency, he insists, is his own dream.
"Thank God I no longer have dreams of greater economic development, but of helping the country," Daniel said in an interview with local media last month.
Translated by Paulina Munita.