The full coup attempt of Pedro Castillo Congress has voted the vacancy – the term that the removal of the president receives in the Peruvian Constitution – which was scheduled for this Wednesday, December 7 and which finally has been approved by a vast majority: 101 deputies out of a total of 130 have supported his dismissal, for which only 87 were necessary. Only some deputies from Peru Libre, the party that presented Castillo as a candidate for the presidency, have voted against.
After this vote, the current vice president of the country, Dina Boluarte, has been named president this same Wednesday, as the Constitution stipulates, despite the fact that some consider that this Congress, many of whose members are suspected of having even received bribes, should dissolve and call early elections. Boluarte has announced in her oath that He plans to remain in office until 2026.thus clearing up the idea of ​​early elections.
Only a few hours before, Pedro Castillo had announced a dissolution of Congress for which he had no legal powers, which has even led to the resignation of several of his ministers.
As reported by the Willax television network, given the certainty of the failure of the coup Castillo has tried to take refuge in a foreign embassybut some Peruvian citizens have blocked diplomatic headquarters such as Mexico.
"Hands up, we have the order to shoot"
Finally, when the vote in Congress has reached sufficient votes for the dismissal, a group of police officers from the Tactical Actions Subunit of the Police they have proceeded to arrest Castillowho was traveling by car through the streets of Lima.
The policemen have stopped the two cars of the presidential entourage and, according to information provided by Willax Television, they have pointed their guns at Pedro Castillo and his companions have yelled at them "Hands up, we have the order to shoot!". According to these same journalistic reports, former President Castillo and his entire family carried suitcases that seem to indicate that they intended to leave the country.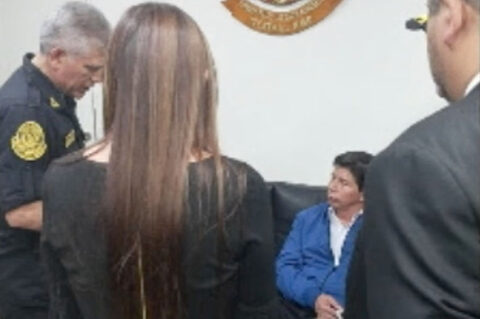 Subsequently, images of Pedro Castillo himself and his prime minister and lawyer, Aníbal Torres, have been broadcast. detained inside the Lima Police Prefecture. In one of these images, the former president is seen in front of a police officer and the Attorney General of Peru, Zoraida Ávalos, from behind, confirming that the police operation was coordinated by the Prosecutor's Office, which in recent months has carried out a series of of investigations and complaints about the different cases of corruption in which Castillo himself and many of his close collaborators have incurred.
The State Attorney General, Daniel Soriahas filed a criminal complaint with the National Prosecutor against the citizen Pedro Castillo for the alleged commission of the crimes of sedition, abuse of authority and serious disturbance of public peace.
🚨 #URGENT | The State Attorney General, Daniel Soria, has filed a criminal complaint with the National Prosecutor against the citizen Pedro Castillo for the alleged commission of the crimes of sedition, abuse of authority and serious disturbance of public tranquility. pic.twitter.com/QaSBAbkLQb

— State Attorney General's Office – Peru (@PGE_Peru) December 7, 2022