BERLIN, Sep. 2 (Portaltic/EP) –
LG has brought to the IFA fair in Berlin (Germany) its novelties in household appliances and screens for entertainment, where a new refrigerator with customizable panels using colored LED lights and the new OLED Flex television that can be curved stand out.
LG's solutions to improve air quality come under the PuriCare brand, which has been expanded with a new purifier model with a customizable design reminiscent of a table. This is PuriCare Objet Collection Aero Furniture, and it projects the air in all directions (360 degrees).
The company has highlighted at IFA its compact size, color options (pink, yellow and gray) and the shape of its upper part (round or more elongated). It also integrates a wireless charger and an ambient light mode.
As an air purifier, this equipment keeps the air clean with a set of filters and LG's UVnano technology, which reduces the presence of viruses and bacteria on and around the Aero Furniture fan blades by up to 99.99 percent. hundred.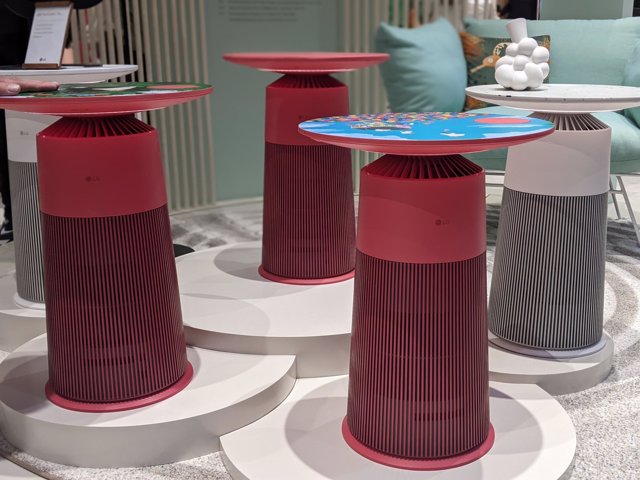 For shoe care, the South Korean company has presented Styler ShoeCase, a shoe display with transparent panels that protects against moisture and light-induced discoloration of the fabric. Its modular design interior rotates 30 degrees to see the complete footwear collection.
For its part, Styler ShoeCare uses steam cleaning technology to keep footwear fresh, which it combines with absorbent filters to prevent moisture and eliminate bad odors. LG has ensured that it supports different types of shoes and fabrics, and that it can refresh four pairs of shoes in 37 minutes with a normal mode at 35 decibels.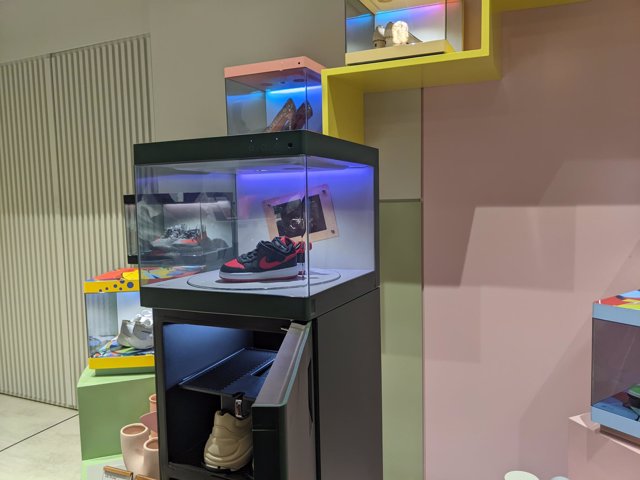 For the kitchen, LG has introduced a new bottom-freezer refrigerator that is energy-certified A thanks to Inverter Linear compressor technology and an improved condenser and heat exchanger structure that improves airflow for move cool air more efficiently throughout the appliance.
LinearCooling and DoorCooling+ solutions help keep food fresher for longer by reducing temperature variations and directing cold air from the top of the refrigerator to hard-to-reach areas.
In the same product category, LG has launched the new MoodUP refrigerator with doors with LED panels, which allow you to customize this appliance by selecting one of the 22 colors that the upper panel admits and the 19 of the lower panel.
MoodUP also integrates a Bluetooth speaker that can be connected to a smartphone, tablet or laptop to broadcast music from streaming platforms or from a ThinQ app playlist.
This refrigerator also includes On-Device AI, a chip designed by LG for home appliances that integrates advanced artificial intelligence to expand the user experience with features such as enhanced voice recognition and WiFi and Bluetooth connectivity.
All these home equipment can be managed from the LG ThinQ application, from where, in addition to configuring different modes of use, you can also check the status of the device.
SCREENS
LG's 'gaming' brand, UltraGear, has taken advantage of the IFA framework to present its first curved monitor with OLED technology. ULtraGear OLED (45GR95QE) features a 45-inch size, 240Hz refresh rate, and 21:9 UltraWide aspect ratio.
Alongside this screen, LG has also unveiled UltraFine Display Ergo AI, a 31.5-inch IPS 4K monitor with automatic position adjustment designed to maintain ergonomics throughout the day. To do this, it analyzes the user's posture and slightly modifies the position with variations in height (from zero to 16mm) and in inclination (from -20º to +20º).
Within premium televisions, IFA has welcomed the presentation of the LG OLED evo Gallery Edition TV (97G2) model, with a 97-inch diagonal which, according to the company, makes it the "largest in the world" OLED television.
It has also debuted at the German fair LG OLED Flex, a television with a flexible 42-inch OLED screen, which starts from a flat form factor and supports up to twenty different levels of curvature up to a maximum of 900R.
Also, this TV can be tilted 10 degrees up and 5 degrees down, and has an adjustable base, with a height adjustable margin of 140 millimeters, to improve ergonomics.
LG OLED Flex integrates Switching Hub, allows interleaving the built-in microphone in the panel and other devices connected through its USB ports through a PC, such as headphones, keyboard or mouse from a single HDMI connection.
This flexible panel television incorporates an intelligent a9 Gen 5 processor with algorithms that modify the image values ​​as the content is consumed by the user through deep learning to offer image quality and realism. And round out the audio-visual experience with two 40W front-facing speakers and support for Dolby Atmos.