Recent studies conclude that it will be necessary to build more than two billion new homes in the world over the next 80 years due to population growth and changes in the average size of households.
Another analysis presented in 2021 estimates that Spain needs more than one million affordable rental properties to solve the housing accessibility problem.
According to the Ministry of Public Works, there are a total of approximately 26 million homes in Spain. Some 3.4 million were empty in 2011, according to the latest INE estimate.
Energy consumption and emissions
For years, concern about the environmental impact of the building sector has been transformed into legislative requirements and measures to promote and support energy efficiency, the promotion of renewable energies and the reduction and sustainable management of construction and demolition waste.
At the end of the 20th century, after decades of development of air conditioning and environmental conditioning systems and the implementation of the first insulation requirements in buildings in Spain, the main concern was the reduction of operational energy or in the use phase. This includes that mainly associated with heating, cooling, generation of domestic hot water and lighting.
With the application of the new measures in the context of the EU, significant progress has been made in reducing CO₂ emissions from this consumption. This has made it possible to focus on another no less relevant aspect: embodied energy, that is, that necessary for the extraction of raw materials, manufacture and transport of materials and construction.
According to the Intergovernmental Panel on Climate Change, by 2050 a third of global carbon emissions (and about a third of global energy consumption) will come from the construction of buildings and infrastructure.
Although a common EU policy on CO₂ emitted over the full life cycle of a building is still being developed, three countries have introduced emission limits for a large part of new buildings, and two other countries have plans to do it. Four additional countries plan to introduce life cycle assessment requirements for public buildings.
Rehabilitate or build again?
Given this scenario, and taking into account the maxim that the cheapest energy is the one that is not consumed, is it sensible to continue building new buildings? Are there enough buildings today capable of housing the needs of human activity in the near future (carrying out the necessary rehabilitation or transformation operations)?
The question is perhaps too broad considering the different social contexts and the great variety of human activities that require a habitable space for their development. It is not the same to talk about this issue in places where urban planning and infrastructure have reached a significant level of development than in those where the building needs, especially residential, involve providing the minimum levels of habitability to several million people.
What is certain is that, according to the data presented, the abandonment of existing buildings and their demolition and replacement by new constructions results in priori less efficient in environmental terms.
For a long time, some prestigious architects have opted for this policy in their proposals. In 2004, the Lacaton and Vassal studio, together with the architect Frédéric Druot, developed PLUS, a study and manifesto that questioned an initiative by the French Government to demolish a significant part of its stock of post-war social housing and build new and smaller houses at high cost.
His alternative approach is summed up in the maxim: "Never destroy, never delete or replace, always add, transform and reuse!". Over the past fifteen years, Druot, Lacaton, and Vassal have had the opportunity to test their guesses in reality, transforming modernist homes in Paris, Saint-Nazaire, and Bordeaux (see figure).
Anne Lacaton and Jean-Philippe Vassal have received the prestigious Pritzker Architecture Prize in 2021, considered equivalent to the Nobel Prize in this discipline.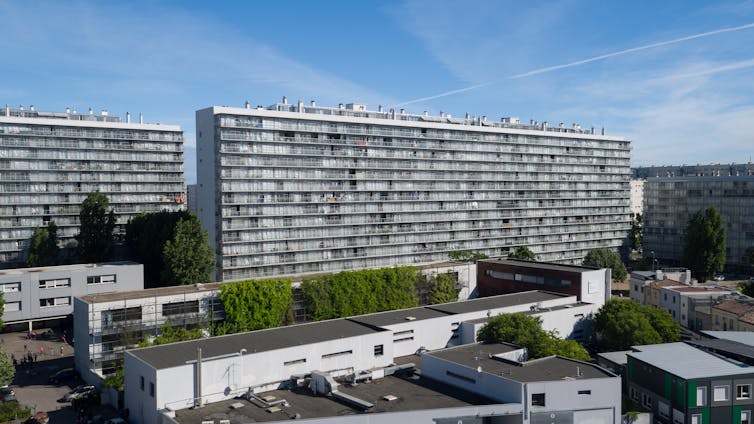 Where are the empty houses?
However, this strategy is not always feasible. The problem of adjusting, for example, the demand for new homes to existing empty homes in Spain is not just a building issue, but an urban and even geographic one.
Many of the buildings are located in the historic centers or neighborhoods developed with the post-war exodus, in habitability conditions that are not admissible today. On the other hand, most of these buildings are obsolete from the point of view of energy efficiency and it is often difficult to make a realistic characterization for their rehabilitation.
Finally, according to the aforementioned INE statistics, the provinces of Ourense and Ávila had the highest percentage of empty housing in 2011 and small municipalities, with between 1,000 and 10,000 inhabitants, had higher unemployment rates than large ones. 58% of the empty flats, 1.9 million, were in municipalities with less than 50,000 inhabitants.
To compensate for this imbalance, policies to promote housing rehabilitation and urban regeneration must go hand in hand with others aimed at addressing the demographic challenge and depopulation.
Support for rehabilitation and renovation
Currently, numerous action plans are available in the EU countries within the framework of the wave of renewal that the European Next Generation funds are promoting.
These funds are implemented in Spain through the Recovery, Transformation and Resilience Plan. Pursuant to it, the Council of Ministers approved in October 2021 a series of measures in order to promote the rehabilitation of buildings and homes, urban regeneration and the promotion of social housing. They are endowed with 4.42 billion euros.
Also noteworthy in this same area is the Program to Promote the Rehabilitation of Public Buildings (PIREP). Endowed with 1,080 million euros, this initiative is aimed at territorial public administrations (autonomous communities and local entities) with buildings for public use (administrative, educational, welfare, sports, health, cultural, etc.) that can be rehabilitated.
The PREE 5000 Program (Energetic Rehabilitation of Buildings in Municipalities with a Demographic Challenge) also has special relevance, the purpose of which is to give a boost to the sustainability of construction in municipalities with fewer than 5,000 inhabitants.
The plans contemplate actions that range from changes in the thermal envelope to the substitution of thermal generation facilities with fossil fuels for renewable sources (biomass, geothermal, solar thermal, heat pump) to the incorporation of regulation and control technologies and improvement in energy efficiency in lighting.
These plans encounter obstacles such as the need for investment prior to receiving the aid, inflexible financing mechanisms and a lack of qualified labor specialized in the building rehabilitation sector. Therefore, it is necessary to address these issues in parallel and seek new mechanisms to speed up these processes.
Finally, none of these actions, however advantageous they may be from the environmental point of view compared to the new building, will be sufficient to reduce CO₂ emissions if they are not carried out taking into account the opportunities for a more efficient use of resources in the sector. of construction collected within the framework of the Spanish Circular Economy Strategy.
The framework pays special attention to increasing the use of recycled materials and reducing construction and demolition waste, which constitutes a third of all waste generated in the EU. Most is recyclable, but except for a few Member States that recycle up to 90%, the average recovery rate in the EU is below 50%.
In conclusion, it seems that taking advantage of what exists to cover future building needs is not a pipe dream: the mechanisms are in place, but coordination and training of both the public and the specialized sector are needed, which still represents a long way to go. way to go.