Vladimir Cerron, leader of Free Peru He was honest in an act before militants and admitted the violent intentions of his party and what the constitutional change that the Peruvian left proclaims really hides: the will to impose it by force if necessary.
And it is that during a "political school" of his party in the district of La Victoria, Lima, Vladimir Cerrón was honest and, after affirming that "in Peru there will be no changes if the political constitution is not changed", which according to him it is an old ideological premise of his party, he admitted that this change can come "either by a peaceful way or by a non-peaceful way, unfortunately".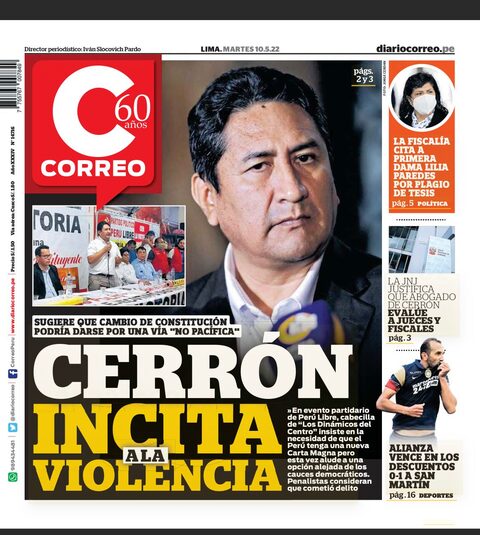 Cerrón's statements were made on May 3, but they came to light this week when journalist Beto Ortiz, from Willax Television, broadcast them on his program. Since then, the issue has generated a notable scandal in Peru, jumping to the front pages of some newspapers such as tromewhich in its edition of this May 10 titles "Cerrón prepares the blow". For his part, the Mail –the second in circulation in the country– has as the main headline of its Tuesday edition: "Cerrón incites violence."
"The power is very different from the Government"
In a very long speech, Cerrón spoke of independence, of the war in Cuba or the different ideological currents in Peru, of Peru's historical left-wing intellectuals and many other topics, of the problems and obstacles that, according to him, the right is putting in Pedro Castillo and that if there were a socialist state, the exercise of power would be the result "of a consensus between leaders and those led."
Interestingly, after appealing to "other ways" for constitutional change, Cerrón spoke that the Constitution is the result of that "consensus" of the "dominant and dominated" classes. In his opinion, the 1993 Constitution "was not born of that consensus." In addition, Cerron tries to deny that its intention is to perpetuate itself in power because "we are not in power, we are in government, but power is very different from government".
A project of the extreme left
Drafting and approving a new Constitution tailored to your needs is one of the great demands of the Peruvian extreme leftwhich however is encountering strong resistance.
In fact, last day six, that is to say, three days after Cerrón's declarations, Congress rejected a project by Castillo to install a Constituent Assembly to draw up this new Magna Carta and, incidentally, surpass the parliament in which Peru Libre is in the minority.
.