Auditors are essential to guarantee the reliability of company information and the proper functioning of markets. Their job is to independently examine business information and ensure compliance with regulations in this regard. However, his professionalism has been questioned after various financial scandals.
Various accounting frauds have conditioned the appearance of stereotypes among students. These stereotypes condition the decisions of future professionals in the field of auditing (we understand as a stereotype an idea commonly accepted by society, although normally with negative connotations).
Before the global financial crisis of 2008, the best Business Administration and Management students wanted to be auditors. However, as a result of news that questions the role of auditors in cases such as Enron, Walmart, Bankia, Pescanova, Abengoa or Wirecard, for example, many students have changed their attitude towards this profession of public interest.
Bringing the professions to the university
Since 2007, the main corporation of auditors, the Instituto de Censores Jurados de Cuentas (ICJCE Madrid) of Madrid, has been developing the "Auditor for a day" project to bring the auditing profession closer to university students. Since then, more than 700 students have participated.
Students from various Madrid universities, public and private, become the "shadow" of an auditor. Students are integrated into an audit team every year and can observe how they work, following their work schedule, attending meetings with clients, with the team, eating with them, etc.
The objective is twofold:
That students feel motivated to be auditors at the end of their career.

That audit firms attract outstanding talent.
In order to understand the reasons behind the choice or not of this profession, and to analyze the validity of extracurricular activities such as "Auditor for a day" in an objective way, we conducted surveys of the participants before and after carrying out said activity. .
Years after finishing their degree, we searched the LinkedIn social network for the profiles of these students, mainly to check if they worked or had worked in auditing companies. 30.6% of the selected students had dedicated themselves or continue to work in companies in the sector.
One before and one after
For example, this is how a third-year Business Administration and Management student summarizes the experience of this extracurricular activity on her LinkedIn profile.
"Without a doubt, an experience that changed the wrong image I had about auditing and that only fueled my interest in the profession."
Another second-grader in the same grade commented:
"I loved the atmosphere there, how they work as a team and help each other. And it has caught my attention that they have to be constantly training (…) The truth is that I see myself being there when the race is over and I have told my team".
A third student stated:
"The profession caught my attention, and above all it helped me to discard those taboos I had towards auditors."
All of them participated, along with other students, in this extracurricular activity organized within the Audit-University Project, that is, an activity carried out outside the classroom and class hours.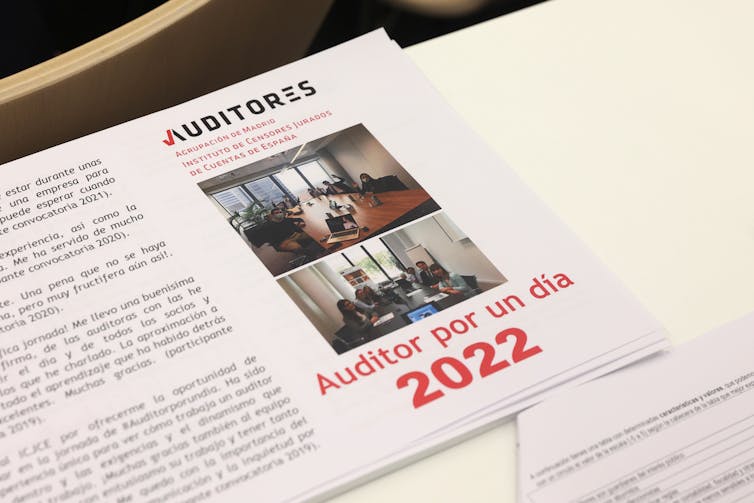 motivation and reward
According to our results, contact with auditors and work teams improved students' perception of considering auditing as a profession of public interest. And it influenced so that, years later, they chose to dedicate themselves to it.
Among the factors that conditioned the decision to become an auditor are: being motivated by the activity, feeling rewarded with said activity and considering that auditing is a profession of public interest.
Employability and talent
This work highlights the importance of extracurricular activities to improve the employability of university students. In addition, it shows how, given the existence of negative stereotypes that condition the perception of students, contact activities with professionals improve their perception and attract talent.
With educational policies that promote and finance this type of activity, it is possible to attract talent to professions with negative stereotypes, but which are necessary for the proper functioning of society.