Audio-Technica M-50 headphones. – .
MADRID, Oct. 25 (Portaltic/EP) –
Audio-Technica has fulfilled 50 years developing headphones both professional audio and for the daily life of its users, highlighting the main values ​​of the company to satisfy the needs of users, focused on creativity, sensitivity towards art and knowledge to promote R&D development.
The Japanese audio technology manufacturer began developing its products in 1962, with devices such as microphones, headphones, wireless systems, mixers and turntables. In this context, last year it celebrated its 60th anniversary as a companywith two new wireless hi-fi turntables, Audio-Technica AT-LP3XBT and AT-LPW50BTRW, and a high-end phono capsule.
Now, Audio-Technica celebrates 50 years manufacturing headphones and, in this sense, it has recalled some of its best-known models both professionally and at the user level, in a meeting held this Wednesday with the press.
Specifically, he has emphasized the M50 headphone linewith different versions of the ATH-M50 model that they have created over the years from multiple color combinationswith specific specifications for studio, podcasts or even DJ.
As stated by the Iberia director for Audio-Technica, Sylvain Hochart, It's about a model that has become a "standard" for the professional music scene. In fact, it has confirmed that, since its launch in 2007, more than 3.5 million units globally.
Thus, they have shown limited edition models Like the ATH-M50xBT2DS wireless headphones, with up to 50 hours of continuous use on a full charge and listening clarity enhanced by its patented 45mm large-aperture drivers.
They have also taught professional monitoring headphones ATH-M50xDS, Equipped with patented 45mm large aperture transducers and a wide frequency range with great audio clarity. In addition, they can be rotated 90º to facilitate listening with one ear.
LIMITED EDITIONS OF TURNTABLES
As part of its 60th anniversary Audio-Technica presented two new limited edition turntables, Audio-technica AT-LP3XBT and AT-LPW50BTRWwhich they also showed during the meeting, and which were launched aimed at a sound enthusiast audience.
Audio-technica AT-LP3XBT combines analog audio with enhanced features such as AT-VM95C capsule and an external AC adapter. In addition, it features fully automatic operation, with belt drive and two speeds (33-1/3 and 45 rpm), to offer High fidelity audio with Bluetooth technology.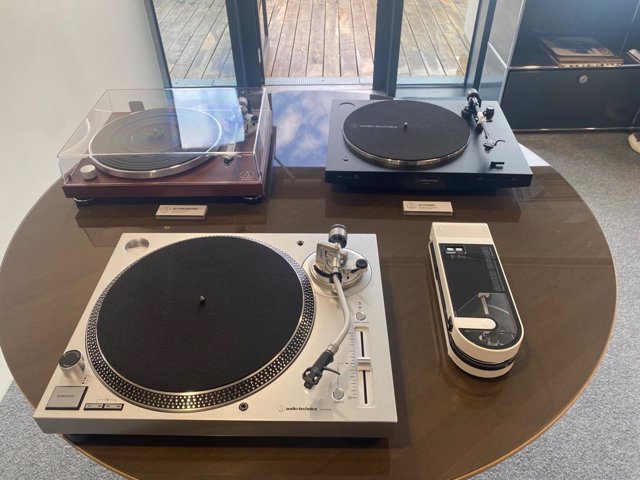 Besides, Audio-Technica AT-LPW50BTRW It is a wireless turntable with wood finish and belt drive Fully manual, with support for the latest speakers and Bluetooth headphones.
Its engine, which guarantees platter rotation speeds of 33-1/3 and 45 rpmis equipped with a speed sensor system to maintain the platter rotation speed accurately, and features adjustable dynamic anti-skate control.
Additionally, this model has a carbon fiber straight arm with hydraulic damping lift control and lockable stand, and a high-performance AT-VM95E dual moving magnet phono capsule, with a 0.3 x 0.7 mil elliptical stylus.
Another product that Audio-Technica has highlighted is its Sound Burger portable turntable (AT-SB2022), which launched last year, a redesign of the 80s model and which also includes Bluetooth connectivity and a battery with autonomy of up to twelve hours.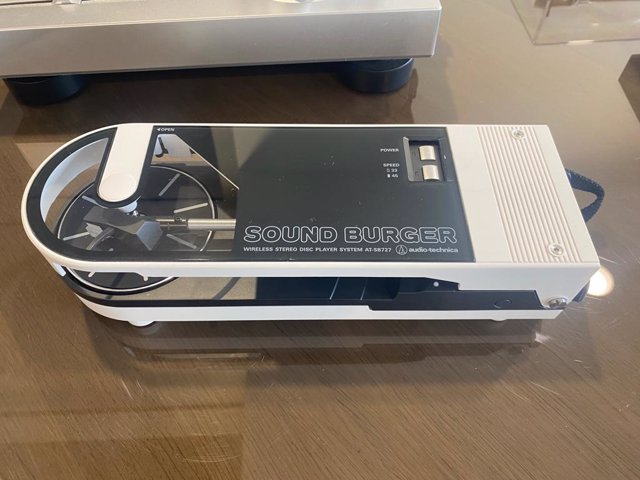 About future newsHochart has advanced that "over the next year" The company plans to launch "a lot of things" under Audio-Technica turntables.
AUDIO-TECHNICA VALUES
The company has also taken advantage of underline the values ​​that Audio-Technica maintains face to meet the needs of your professional clients and of the users. One of these values ​​is the sensitivity towards artso they try to develop and manufacture their devices always thinking about possible improvements to take care of the sound.
Audio-Technica has explained that its work is based on the promotion of creativity and, to do so, it tries to support artists in different ways so that their art is promoted and content continues to be generated. Following this line, it has also influenced the importance of knowledgereferring to his department of research and development R&D.
Finally, the Japanese manufacturer has stressed that it is a company that based on analog. "We like digital and we create a lot of digital. But analog remains our pillar," said Hochart.
PROJECTS AT A PROFESSIONAL LEVEL
The company has highlighted its work every day to be part of everything related to professional audio. Including, in addition to the musical panorama, sports projects and government spacessuch as parliaments or city councils, at a global level.
In this sense, Hochart has recalled that, Since 2019 Audio-Techica has been the company providing microphone solutions for the MotoGP motorcycle championship.. Thus, it provides both 'software' and 'hardware' solutions, with microphones on the track, in the pit lane and even on the bike itself, to obtain more real sounds of the moment.
To do this, they have a selection of 265 microphones, headphones and monitoring solutions. Specifically, regarding microphones, the company uses 53 microphones for tracks, 76 microphones for interviews.
"At the sports level it is the most advanced in the sound field", Hochart has ruled on the matter. Furthermore, he explained that the new technologies developed by the company for this sport, Then they are introduced into other sectors, such as Football.
Likewise, Audio-Technica is also the official audio provider for the olympic games since 1996, working in conjunction with the Olympic Broadcasting Service (OBS). In this sense, they also produce audio and hardware solutions focused on all the needs of this global competition.
OTHER PROJECTS IN THE MUSIC SCENE
Refering to music scene, Audio-Technica has expressed that music continues to be "its passion" and, therefore, it has a wide variety of products, focused on this professional sectorin which they work with celebrities such as ColdPlay, Elton John, Lady Gaga, Foo Fighters and Metallica.
On the other hand, they are participating in projects like 'Playing for change', an initiative that make known completely unknown artists from anywhere in the world. To do this, Audio-Technica offers recording material such as microphones and headphones, with which artists record versions of songs, either through their voice or with an instrument, and later put them together with recordings from other artists to create 'collages'. '.
The company is also a promoter of other initiatives such as Creator Community, a Discord platform channel created by a group of its "music-passionate" employees. In this space, which any sound fan can join, content about music is disseminated and experiences and songs are shared, and user-generated content is even made known.